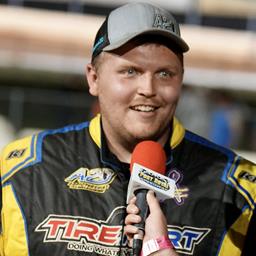 ---
Austin Berry Suffers Issues Late at Port Royal
Austin Berry Suffers Issues Late at Port Royal
August 22, 2023/in Austin Berry, Late Models/by mraddicted2dirt
Preparing to Take On Lucas Oil Late Model Tour This Weekend
Port Royal, PA – August 22, 2023
by Addicted2Dirt PR & Media Mgmt
Photo Credit: Derick Kriner Photography
Austin Berry has been in the top ten at three other racetracks since his last finish there at Port Royal Speedway. It's been a frustrating stretch. He has logged a podium finish at Clinton County, a 9th at Selinsgrove and a 10th at Hagerstown since his 5th place run at The Speed Palace in early June.
On the bright side, it hasn't been a result of major issues. Berry will tell you they just haven't been very good. He and the team have been working hard to get the balance back in the car at the Juniata County, PA oval. They had it earlier this season and they were moving forward each time they hit the track. Now, they find themselves searching for the right combination.
Date: August 5, 2023
Track: Port Royal Speedway
City, State: Port Royal, PA
Quick Stats: 32 cars, Qualifying 16th, Heat 4th (3), A-main 21st (16)
Average Start
Berry kicked off his night with a 16th place qualifying effort aboard The Tire Mart Tire Pros of Harrisburg, Juniata Veterinary Clinic, Berry's Siding & Seamless Gutter, SRI Performance / Stock Car Steel & Aluminum, VP Racing Fuels, JDS Racing, Locust Hill Custom Butcher Shop, Nathan Berry Beef Farm, Addicted2DirtPR.com, GO Lithium, Valvoline Pro-V Racing, Super Clean, Rocket Chassis, Austin Berry Racing No.86.
With four heat races slated for the 32-car field, every finishing position in the heat races would be worth four starting spots in the feature event. From his 3rd place starting spot in the fourth heat race, Berry was unable to gain ground and ultimately slipped one spot to a 4th place finish, handing him the 16th starting spot in the main event. It was a disappointing scenario for the Mifflin, PA driver, who has been working from behind in similar situations most of the season at Port Royal Speedway.
Track Position
The competition is so close these days in super late model competition that track position often makes or breaks your night. There are a dozen cars or more in the starting lineup at Port Royal every week that can win the race if they are able to earn the right starting spot to give themselves a shot. Had Berry been able to earn a runner-up finish in his heat, he would have likely started inside the top ten and had a much better chance at a top five finish. From 16th, he would likely spend half the race working his way into the top ten, then wouldn't have the tires left to gain more positions.
In the 25-lap A-main, Berry was mired around 14th for a large part of the race, then climbed into the 13th spot and appeared to be building some forward momentum in for the final ten laps when an engine issue arose bringing an abrupt end to his run.
It has been a trying season for Berry, who didn't have words for the latest setback he and his team will need to manage.
Be sure to visit Austin Berry Racing's YouTube Channel at YouTube.com/AustinBerry86 to watch that video plus all the other the great content they provide!
Be sure to LIKE, COMMENT and SHARE the video, plus SUBSCRIBE so you are the first to know about all the great content they share!
Up Next
Berry and his team will spend this week swapping engines, going over the entire car and preparing to take on the Lucas Oil Late Model Dirt Series at Port Royal Speedway on Friday and Saturday night during the two-day Rumble By the River.
The event features a split field on Friday night with Twin 25-lap $5,000 to win features. The finale Saturday night will pay the winner a hefty $50,000. A large field is expected to be in attendance and making the main event on Saturday night will be challenging for any team.
Berry's full schedule can be found at Addicted2DirtPR.com/events and at AustinBerryRacing.com under Schedule.
Season Stats
18 races, 0 wins, 3 top 5's, 5 top 10's, 9 top 15's
---
Article Credit: ADDICTED2DIRT
Submitted By: Joey Bainey
Article Media
Back to News