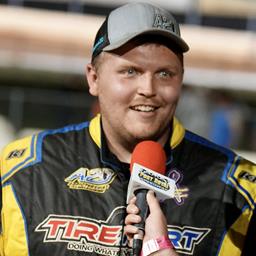 ---
Berry Forced to End Super Late Model Season After Back to Back Weeks With Engine Issues
Berry Forced to End Super Late Model Season After Back to Back Weeks With Engine Issues
August 31, 2023/in Austin Berry, Late Models/by mraddicted2dirt
Team Will Enter Limited Late Model Division at the Butch Renninger Memorial
Port Royal, PA – August 31, 2023
by Addicted2Dirt PR & Media Mgmt
Photo Credit: Derick Kriner Photography
Austin Berry knew making the Lucas Oil Late Model Series Rumble by the River finale at his home track, Port Royal Speedway, would be challenging, especially given he was down on horsepower with his number two engine under the hood.
Racers don't sit at home though. They give it their all and work to find a way.
Maybe with the tough luck he has had this season he was due for a break and things would go his way. You don't know until you try.
DATE: August 25, 2023
Event: Rumble By the River Prelim
Track: Port Royal Speedway
City, State: Port Royal, PA
Quick Stats: 52 cars, Qualifying 22nd, Heat 8th (8), A-main 14th (22)
Momentary Optimism
A large, quality field of 52 super late model teams signed in to compete on the preliminary night of the two day Rumble by the River Lucas Oil Late Model event at Port Royal Speedway on Friday, August 25th.
Berry's night started off with a good pill draw which put him 3rd in the qualifying order. Traditionally an early qualifying opportunity provides the best track conditions. Unfortunately, the combination of a horsepower shortage and a missed setup landed Berry 22nd of the 26 cars in his group.
The Tire Mart Tire Pros of Harrisburg, Juniata Veterinary Clinic, Berry's Siding & Seamless Gutter, SRI Performance / Stock Car Steel & Aluminum, VP Racing Fuels, JDS Racing, Locust Hill Custom Butcher Shop, Nathan Berry Beef Farm, Addicted2DirtPR.com, GO Lithium, Valvoline Pro-V Racing, Super Clean, Rocket Chassis, Austin Berry Racing No.86 lined up 8th for the heat race but couldn't gain any track position and finished in the same spot.
Berry and the team continued to adjust and try to get better for the 25-lap main event. Every position gained would improve their position for Saturday's heat races and give them a shot at racing their way into the $50,000 to win finale.
Berry started 22nd in the A-main. From the drop of the green he went right to work chipping his way forward and by lap seventeen he had moved into 14th. The progress stalled there but it was a solid effort to recover from a poor qualifying run.
The sense of at least some relief was short-lived. As Berry flashed under the checkered flag, his engine expired with a show of flames.
Instead of starting 5th in his heat race Saturday night, Berry was greeting fans and selling merchandise while his wounded race car sat 10 minutes away in his team's race shop.
Up Next
With both of the team's super late model engines sidelined, Berry will get an early start on his off-season work and 2024 preparation. The team shared that they will make a change to their engine program by aligning with a different engine builder going forward.
"Those conversations had already started prior to this weekend.", Berry shared.
However, that doesn't mean Berry will be sitting at home! The team has secured a limited late model motor to compete in that division at this Saturday's Butch Renninger Memorial at Port Royal Speedway.
News Coming Soon on PanCan Raffle Items and 2024 Season Kickoff Party Tickets
With the season coming to a close, Berry will be raffling off the team's tail banner that has been used all season to cover the rear suspension of the car, plus his special edition Pancreatic Cancer Awareness racing gloves. Details will be coming soon on how to enter. All proceeds will go to charity.
In January, Austin Berry Racing will host their annual season kickoff party which features great food, prizes and a live band. The popular event sold out last year with just over 300 fans attending. It was a fun event for all who attended and a big success for the team. Stay tuned for more information about that event in the coming months.
Be sure to visit Austin Berry Racing's YouTube Channel at YouTube.com/AustinBerry86 to watch that video plus all the other the great content they provide!
Their latest video can be found at the bottom of this release!
Be sure to LIKE, COMMENT and SHARE the video, plus SUBSCRIBE so you are the first to know about all the great content they share!
19 races, 0 wins, 3 top 5's, 5 top 10's, 10 top 15's
Trivia Question
Last week's trivia answer is you will find Austin Berry Racing on ALL of those platforms….TikTok, Facebook, YouTube and X (formerly Twitter)!
The team puts out a lot of great video content on YouTube and TikTok, plus goes live from the race shop almost every week. You can also keep up with news, schedules, merchandise and even what his daughters are wearing to the race track by following the team's Facebook page!
---
Article Credit: ADDICTED2DIRT
Submitted By: Joey Bainey
Back to News