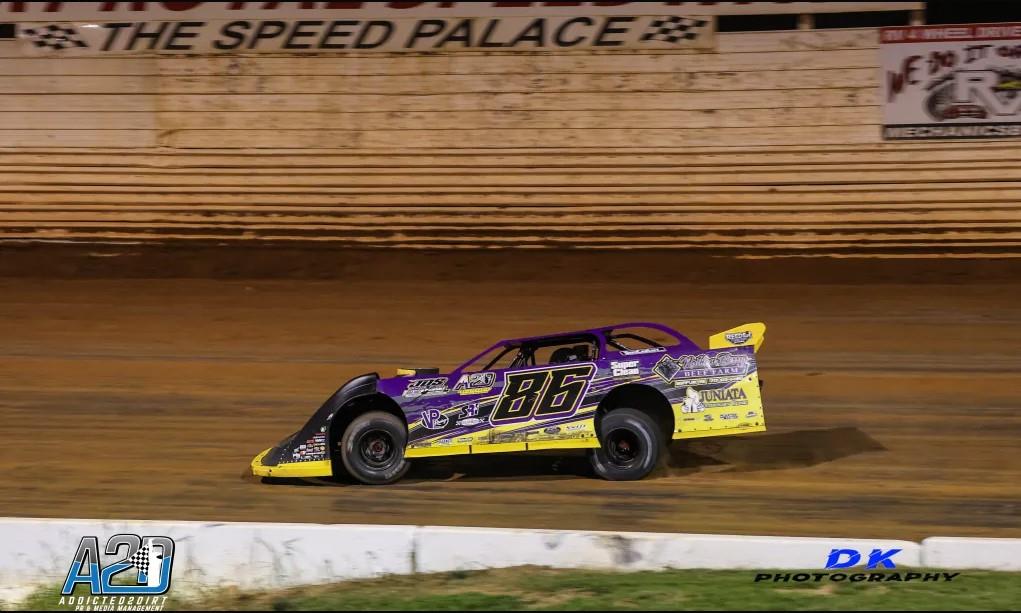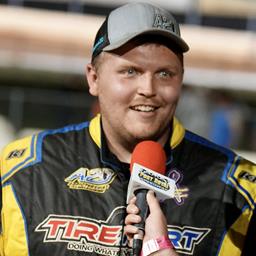 ---
Berry Having Success and Fun Finishing Season in Limited Late Model
Berry Having Success and Fun Finishing Season in Limited Late Model
September 7, 2023/in Austin Berry, Late Models/by mraddicted2dirt
After Two Top Fives, Team Looking To Race More Limited Shows Before Season Ends
Selinsgrove, PA – September 7, 2023
by Addicted2Dirt PR & Media Mgmt
Photo Credit: Derick Kriner Photography
August was an especially tough month for Austin Berry. After two blown super late model engines in three weeks, he had to put an unplanned early end to his super late model season.
A couple days later his phone rang. A friend was offering the use of his spare limited late model engine. Berry said thank you but passed on the offer. He didn't want to risk anything happening to the engine on his watch.
The friend called two more times that week and the last time didn't take no for answer.
QUICK RESULTS
DATE: September 2, 2023
Event: Butch Renninger Memorial
Track: Port Royal Speedway
City, State: Port Royal, PA
Division: Limited Late Model
Quick Stats: 31 cars, Qualifying 5th in Group 2, Heat 3rd (5), A-main 4th (10)
DATE: September 3, 2023
Event: Labor Day Special
Track: Selinsgrove Speedway
City, State: Selinsgrove, PA
Division: Limited Late Model
Quick Stats: 25 cars, Heat 1st (6), A-main 2nd (3)
NEW BUT FAMILIAR
Berry entered his first career night of limited late model competition with uncertainties about how his car's setup would need to differ from what he was used to with more power under the hood and how his driving style might need to change to make The Tire Mart Tire Pros of Harrisburg, Juniata Veterinary Clinic, Berry's Siding & Seamless Gutter, SRI Performance / Stock Car Steel & Aluminum, VP Racing Fuels, JDS Racing, Locust Hill Custom Butcher Shop, Nathan Berry Beef Farm, Addicted2DirtPR.com, GO Lithium, Valvoline Pro-V Racing, Super Clean, Rocket Chassis, Austin Berry Racing No.86 competitive.
The format for the Butch Renninger Memorial at Port Royal Speedway tossed Berry into the deep end of the pool from the start. Group time trials during hot laps meant no practice, no time to adjust.
Berry turned the 5th quickest lap in his group, then used the time before his heat race to make adjustments. He made the right moves and drove from 5th to 3rd in his heat race.
Rolling to the green from the 10th position for the 25 lap main event, Berry went right to work moving toward the front. He cracked the top five just past the halfway mark of the race. He secured a 4th place finish in the closing laps to take home a top five finish in his first attempt in the division.
LOOKING PRETTY COMFORTABLE
With a very solid first night under his belt, Berry decided to make the trip north on Route 35 the following night to Selinsgrove Speedway.
Berry quickly proved his first night was no fluke. From his 6th starting spot in his 8-lap heat race, he drove into 2nd on lap two and on lap seven he claimed the lead. He went on to take his first limited late model heat race win.
The redraw put Berry on the inside of row two for the 20-lap main event. He settled into the runner up spot during the opening laps then jumped into an early lead.
Berry survived several restarts during the race, keeping Coleby Frye at bay. On the final restart with just six laps remaining, Frye wrestled the lead away and Berry settled for a 2nd place finish.
UP NEXT
Two top five finishes in his first two career limited late model starts has Berry looking for opportunities to race a few of the bigger, late season limited races that typically offer an increased purse. With two super late model motors to repair this offseason, making a little cash instead of sitting at home makes sense.
Stay tuned to Austin's social media outlets and Addicted2DirtPR.com/Events for schedule updates and announcements.
News Coming Soon on PanCan Raffle Items and 2024 Season Kickoff Party Tickets
With the season coming to a close, Berry will be raffling off the team's tail banner that has been used all season to cover the rear suspension of the car, plus his special edition Pancreatic Cancer Awareness racing gloves. Details will be coming soon on how to enter. All proceeds will go to charity.
In January, Austin Berry Racing will host their annual season kickoff party which features great food, prizes and a live band. The popular event sold out last year with just over 300 fans attending. It was a fun event for all who attended and a big success for the team. Stay tuned for more information about that event in the coming months.
Be sure to visit Austin Berry Racing's YouTube Channel at YouTube.com/AustinBerry86 to watch that video plus all the other the great content they provide!
Their latest video can be found at the bottom of this release!
Be sure to LIKE, COMMENT and SHARE the video, plus SUBSCRIBE so you are the first to know about all the great content they share!
---
Article Credit: ADDICTED2DIRT
Submitted By: Joey Bainey
Article Media
Back to News