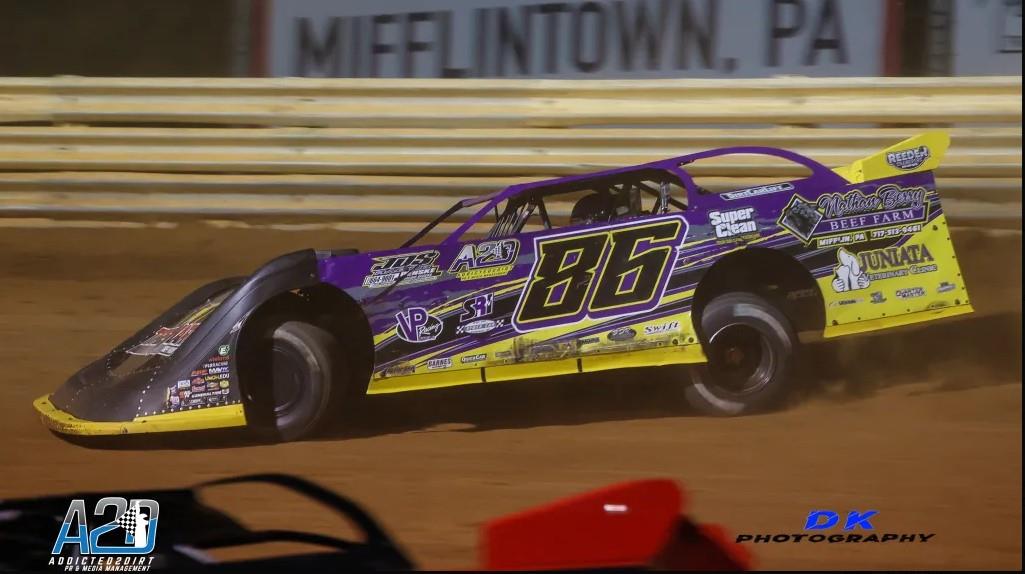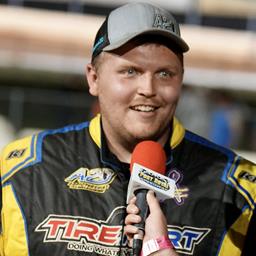 ---
Berry Scores Top Ten Finish in Last Minute Schedule Addition
Berry Scores Top Ten Finish in Last Minute Schedule Addition
September 12, 2023/in Austin Berry, Late Models/by mraddicted2dirt
Hagerstown and Selinsgrove Limited Late Model Action Up Next
Port Royal, PA – September 13, 2023
by Addicted2Dirt PR & Media Mgmt
Photo Credit: Derick Kriner Photography
Austin Berry's two super late model engines are both sidelined for repairs, so the Mifflin, PA driver had no plans to hit the track last weekend.
He had recently bolted a borrowed limited late model engine under the hood and produced a couple outstanding runs with it but there were no plans to race that either.
Late Friday afternoon when he learned of a low turnout of super late models at Port Royal Speedway as a result of an extremely ominous weather forecast, Berry did some math and changed his mind.
QUICK RESULTS
DATE: September 8, 2023
Event: Final Points Race
Track: Port Royal Speedway
City, State: Port Royal, PA
Division: Super Late Model
Quick Stats: 18 cars, Qualifying DNS, A-main 10th (18)
LAST MINUTE SCRAMBLE
Berry's blown engine during the Lucas Oil Late Model event weekend at Port Royal had cost him the chance to race the finale, and along with that he didn't earn any show up points. That was enough to drop Berry from 8th to 11th in the track's season championship standings.
That might not seem important, but the top ten in points at the end of the season receive a complimentary season pit pass from the speedway for the following season. It's a gesture made by the track to show appreciation for the team's season-long support and also an enticement for them to return the following season.
Berry's decision came so late that the team missed the combined hot lap/group time trial session. As a result, he would line up last (18th) for the 25-lap main event in The Tire Mart Tire Pros of Harrisburg, Juniata Veterinary Clinic, Berry's Siding & Seamless Gutter, SRI Performance / Stock Car Steel & Aluminum, VP Racing Fuels, JDS Racing, Locust Hill Custom Butcher Shop, Nathan Berry Beef Farm, Addicted2DirtPR.com, GO Lithium, Valvoline Pro-V Racing, Super Clean, Rocket Chassis, Austin Berry Racing No.86.
The entire Austin Berry Racing team hoped that just showing up would be sufficient to move them into the top ten in points since they were underpowered racing the limited motor against the super late models.
Surprisingly, Berry was able to make the most of the power he had on the slick racing surface, which acted as a bit of an equalizer. He methodically chipped away, moving up to 15th by lap four. He reached 11th with ten laps remaining and broke into the top ten on lap twenty one. He held on to that spot to log a 10th place finish he wasn't sure was possible.
"We had no expectations for tonight. It was such a spur of the moment decision solely aimed at earning enough points to put us back in the top ten, which we accomplished. That gets us one season pit pass for 2024. That may not seem like much, but for a team like ours that races on a tight budget…and given we have two motors to repair…every dollar counts. We spent very little to race tonight and came out on the positive end of our decision.", Berry said.
UP NEXT
Berry's current plans for the upcoming weekend include two limited late model races. He'll start with Hagerstown Speedway's Small Car Nationals on Saturday, September 16th, then will head north to Selinsgrove Speedway for their Sunday night race.
Stay tuned to Austin's social media outlets and Addicted2DirtPR.com/Events for schedule updates and announcements.
News Coming Soon on PanCan Raffle Items and 2024 Season Kickoff Party Tickets
With the season coming to a close, Berry will be raffling off the team's tail banner that has been used all season to cover the rear suspension of the car, plus his special edition Pancreatic Cancer Awareness racing gloves. Details will be coming soon on how to enter. All proceeds will go to charity.
In January, Austin Berry Racing will host their annual season kickoff party which features great food, prizes and a live band. The popular event sold out last year with just over 300 fans attending. It was a fun event for all who attended and a big success for the team. Stay tuned for more information about that event in the coming months.
Be sure to visit Austin Berry Racing's YouTube Channel at YouTube.com/AustinBerry86 to watch that video plus all the other the great content they provide!
Their latest video can be found at the bottom of this release!
Be sure to LIKE, COMMENT and SHARE the video, plus SUBSCRIBE so you are the first to know about all the great content they share!
Super Late Model Stats: 20 races, 0 wins, 3 top 5's, 6 top 10's, 11 top 15's
Limited Late Model Stats: 2 races, 0 wins 2 top 5's, 2 top 10's, 2 top 15's
---
Article Credit: ADDICTED2DIRT
Submitted By: Joey Bainey
Article Media
Back to News